Whales Candy a new ROI DeFi project on Binance earning me 1% passive income daily
This is a new DApp ROI project I stepped in. It is a best of a couple of other DApp projects, like Drip and HEX.
General information
Site: https://whalescandytoken.com/lobby (referral code: 6110002)
Whitepaper:https://whalescandytoken.com/pdf/WhaleCandy%20Whitepaper%20v1.1.pdf
Launch: 1-4-2023
Type: ROI
Chain: BSC, BEP20, $WC token
Contract address: 0x05214b6d7fa41ea946023734829b18cc15231d28
Chart: https://poocoin.app/tokens/0x05214b6d7fa41ea946023734829b18cc15231d28
Features
(Taken from the whitepaper)
4% burn and buyback every day within PCS liquidity pool
Staking: 265% APR and earns $WC token
80% buying fee on PCS (0% when buying on the site)
Automatic staking when buying (instead of possibility to hold and dump)
Weekly USDC buy back and burns. Maintenance fee 2 USDC each week for each stake
More staking and compounding -> more USDC
Other remarks
(Taken from the whitepaper)
Inspired by HEX auction feature

Inspired by WISE auction feature
Inspired by Strong Block (maintenance fee used for buy backs and burns)
Inspired by DRIP (locking up tokens at deposit)
20% of the maintenance fee is used to buy back DRIP and sent to drip tax vault!
Guideline
First you will need $CW tokens, which you can get in 3 ways:
Enter Auction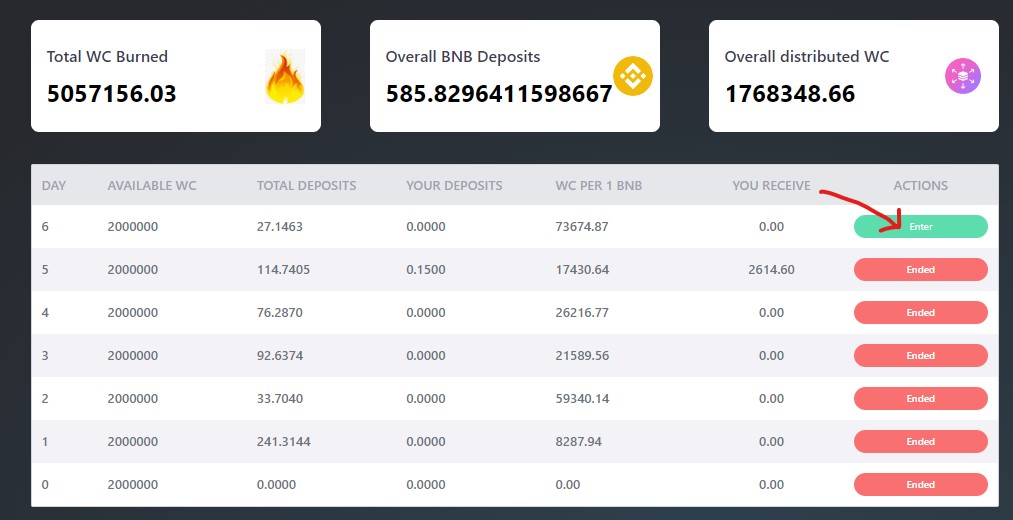 Fill in the amount of BNB you want to spent. There are 2,000,000 tokens within 1 auction day. Depending on the total deposits you will get a share. So the for example when you have deposited 10% of the total BNB deposit for that auction day, you will receive 200,000 CW tokens
The next day (when 24hrs are over), you will see "Calim and Stake" blue button. Press it and fill in 6110002 as referral code. And yes I will receive a 5% bonus but not from your earnings. See this as a thank you for making this article ;-)
Buy $WC tokens
You can also buy the tokens. They can be bought on PCS but there you will pay a
80% tax
!
So basically they urge you to buy on the site itself.
You fill in the amount of BNB to invest and the tokens are bought and automatically staked.
Note: This way the project tries to avoid that you hold your tokens, without staking them, and dump them when the price increases. They want you to stake and earn.
Staking
On the
Staking
page you will see your Stakes.
You can claim or re-invest (compound)
Sell
You can sell $WC tokens on PCS with a 0% fee.
DISCLAIMER
As always this is not financial advice! But just some crypto investment platforms I currently use and have experience with. Do your own research before investing and never deposit money you cannot afford to lose.
Feel free to ask me questions.
To sponsor / support me you can use my BNB wallet address: 0xf28404eeC38e9a7e1669Ac95D9CDD3664cbDB7c2
All projects -
https://linktr.ee/rvdkimmenade
Telegram group -
https://t.me/crypto_and_defi
YouTube -
https://www.youtube.com/c/PassiveIncomewithCrypto
Twitter -
https://twitter.com/incomewithdefi
Thanks, happy days and be safe !