365% APR with Pharaoh Farm Pot on Cairo Finance
I like to diversify a lot in DeFi crypto land. Today I started with this DApp: Pharaoh Farm Pot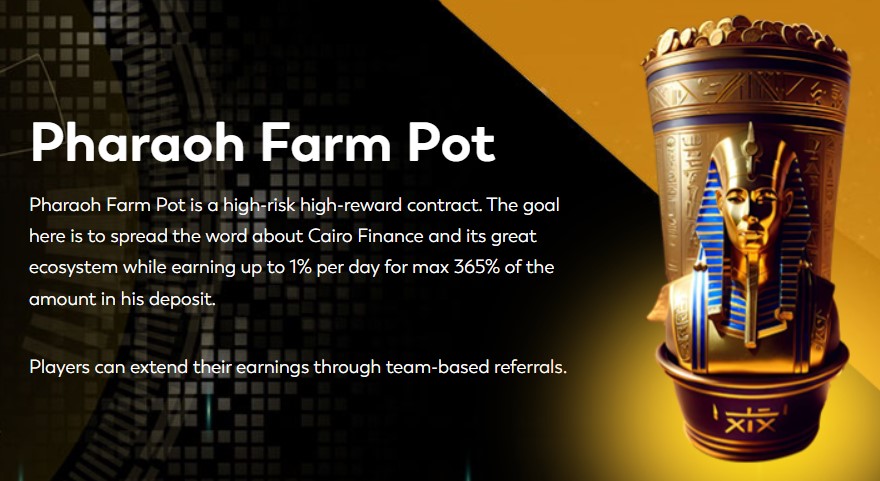 This is one of the products that is supporedt by Cairo Finance DApp. This blog describes the features of this platforms and how to use them.
Note: As always NO financial advice!
General overview
This Cairo Finance DApp is a fairly new project with a big roadmap. Not all products are live already so I will only mention them. I will not go into detail.
The following products are (or will be) supported by the project but
not
live yet:
A DEX called Cairo Swap
Best path for the best swap price and even a burning mechanism of CAF token with each swap
Bridge
DeFi users can bridge native assets on the Cairo Bridge within a single transaction. For example, users can swap USDC on Ethereum for USDC on BNB.

Compounding Farm
This Horus Farm is an all-seeing eye, which scans all projects on the entire market and finds out the most profitable farms / pools, sorting them by different criteria, like yield and audits. And it is automatically compounded

Prediction
Predicting the price of BNB going up or down. This is another mechanism to burn CAF tokens.
Cairo Bank
Lock your CAF tokens (1-4 years) and receive CAF, BUSD and other tokens as yield
Crace NFT
CRace is a combination of 2 significantly growing multi-billion-dollar markets: video gaming, and camel racing, all merged by blockchain and NFT technologies.

Mechandising
You can buy some merchandising stuff that will burn CAF tokens
Launchpad
It is a fundraising platform for young and ambitious crypto projects to achieve their goals and visions faster. To offer the best and easiest launchpad on the Binance Smart Chain.
Casino
This is actually live but not in my region so not able to show
The products that are live will be described next.
Pharaoh Farm Pot
This is an ROI product with up to 1% daily. Nothing new you should say, but there is a twich. You cannot compound. The only way to increase your deposits is by referrals. Upon reaching 365% returns, the user must double their initial deposit to maintain their profits and avoid losing their structure. You can save rewards for the double up or you can create a new account and enjoy advantages of compound interest.
Payouts
Standard: 0.30% Daily Payout
Over 2,500,000 CAF 0.50% Daily Payout
Over 5,000,000 CAF 0.75% Daily Payout
Over 10,000,000 CAF 1.00% Daily Payout
Referrals
There are 7 levels with the first level rewards 10%, level 2 2.5% and the rest of the levels 0.5%
Taxes
For sustainability you have to pay taxes: 15% at deposit and 10% at withdrawal. There are also additional withdraw taxes when you have a certain portion of the total Farm Pot.
Notes:
There is a minimum deposit of 100 CAF (around $22 at the time of this writing)
More detailed information can also be read at the
documentation
.
Steps
So how can you invest within the Farm Pot.
1)
Buy CAF token on PCS
(
address
)
2) Goto
https://cairofinance.app/farmpot
3) Deposit the amount (in my example 600 CAF).
Note: Don't forget to fill in referrer address. You can use mine: 0x28f11DE1CD4Daf3c722EEdbefe68c3F6439283Ed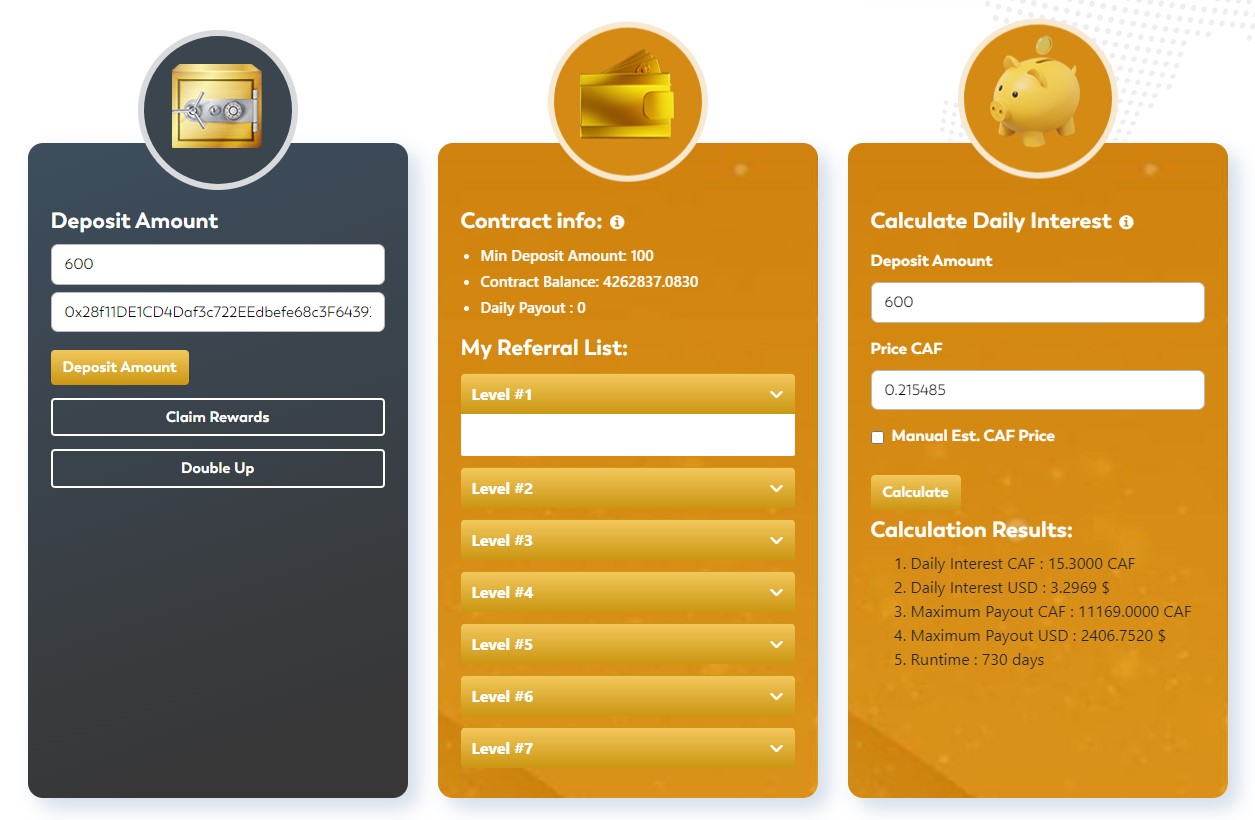 After you have deposited the CAF you can follow your progress at the top.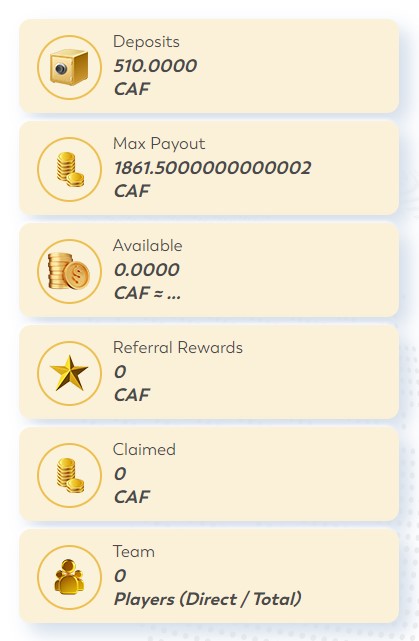 You will see:
Deposits (510 CAF in this case = 600 - (0,15*600)) due to 15% deposit taxes
Max payout 1861 CAF (510 * 3,65)
Available (nothing yet because just deposited)
Referral Rewards (I have no team yet, so nothing there yet)
Claimed (I have not claimed yet)
Team (the number of team members)
I have also staked some CAF tokens.
Free tokens for the Farm Pot
I can give away 100 CAF tokens (worth around $25) to be used for the Farm Pot! And this for 5 users. So as long as I have them please
DM me on Telegram
and I will sent you the tokens.
Of course it is appreciated that you actually use the tokens for the Farm Pot and do not sell them. Furthermore please use my referral address: 0x28f11DE1CD4Daf3c722EEdbefe68c3F6439283Ed
Staking
You also have another possibility to earn more CAF tokens, namely by staking them. There are 2 Farms and 1 Pool.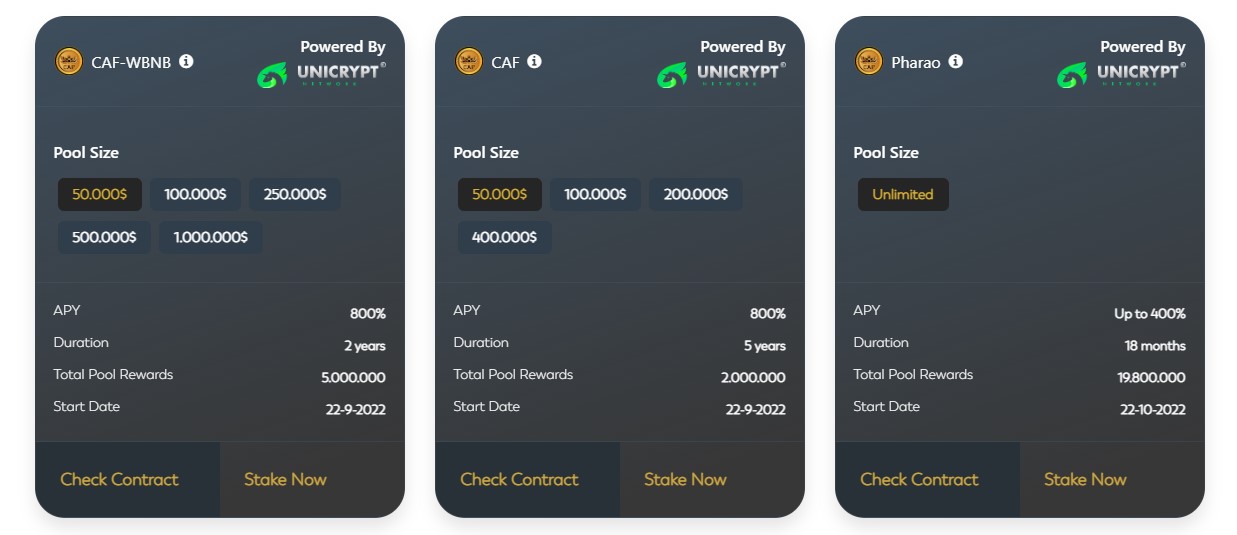 Notes:
Each Farm/Pool will earn CAF
APYs are variable depending on how much CAF is deposited
The duration of the farm/pool is shown
The farms/pools are handled by UNICRYPT
Click on
Stake Now
to start staking. In the following example I have chosen for the CAF Pool.
Steps
1) Connect wallet

2) Hit Subscribe !!
Note: If you don't do this you will get no rewards. The earning only begins when you are subscribed. I forgot to do this and did not understand why the rewards kept 0 CAF ;-)
3) Then there is a lot of information on the screen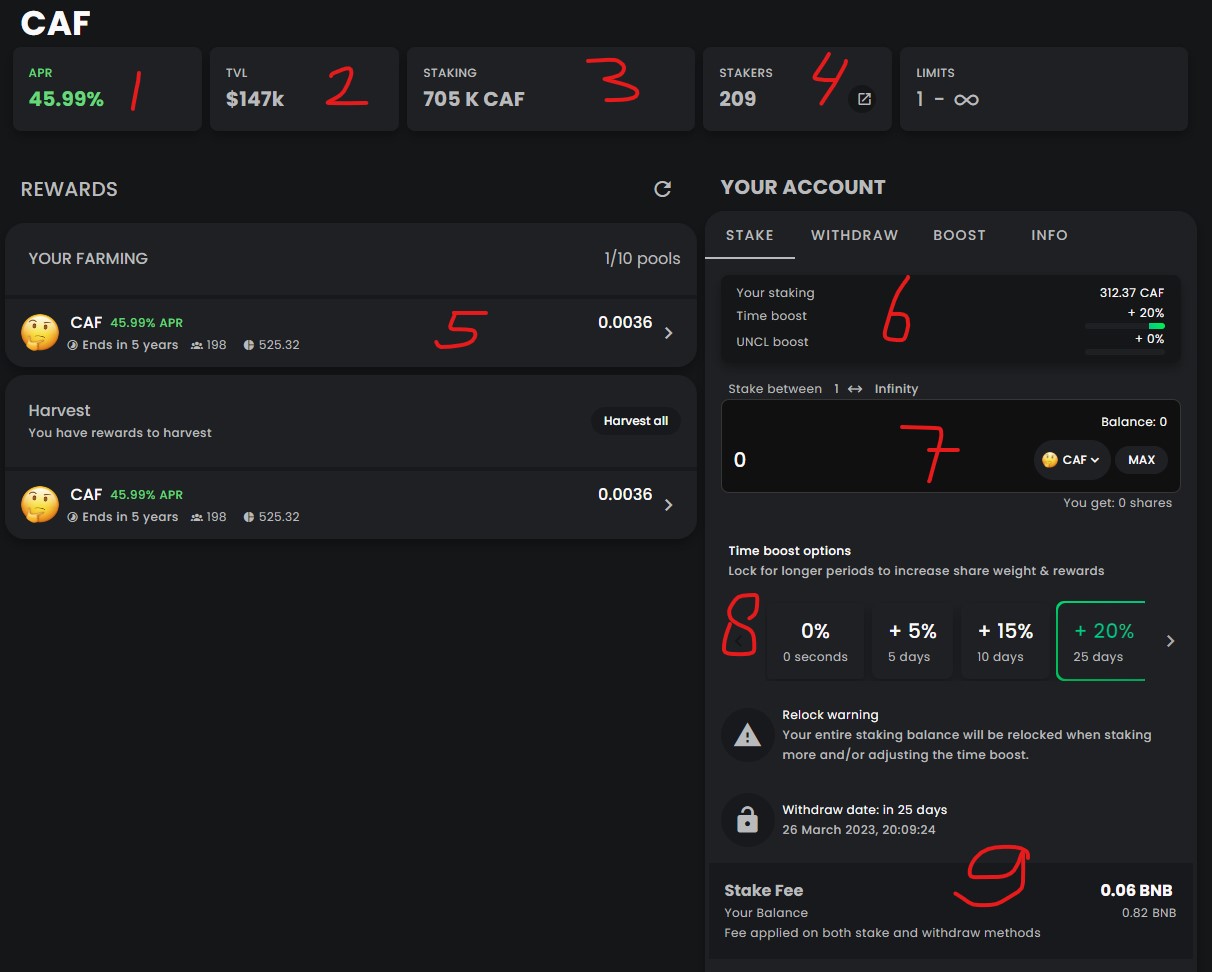 When staking all that is important is 7 + 8 (I assume that CAF is already bought).

(7) Fill in the amount you want to stake
(8) Get extra percentage CAF when locking for extra days.
Note: You can also choose not to lock your stake
The rest of the fields is for information purposes only:
(1) The APR of the Pool
(2) The total value locked within the Pool
(3) The total number of CAF staked within the Pool
(4) The number of stakers
(5) Your Farming Pool
(6) Your stakes and time boost
Note: You can even extra boost your rewards by staking some UNCL tokens
(9) The staking fee is 0.06 BNB
You can always harvest your earnings and you can withdraw your stake after the locking period (which you configured).
Copytrading NFT
Another product is the Copy Trading NFTs. I did not participate in it (yet), but it gives you some additional benefits like:
PRIVATE TELEGRAM CHANNEL WITH CRYPTO TRADING IDEAS

AUTO-TRADING

WEEKLY MARKET OVERVIEW

ALTCOIN-SIGNALS

DEPOSIT BONUSES AND LOWER TRADING FEES

50% discount on NFT PHARAOH VC CLUB

Links
Farm Pot:
https://cairofinance.app/farmpot
CAF chart:
https://poocoin.app/tokens/0x5662ac531a2737c3db8901e982b43327a2fde2ae
Documentatio:
https://pharao.gitbook.io/cairo-finance/